Care Home Idol
11 February 2016
Richmond Letcombe Regis Care Home
Richmond Letcombe Regis Care Homemanaged to scoop second place with the residents and staff's beautifully choreographed dance to 'Singing in the Rain'.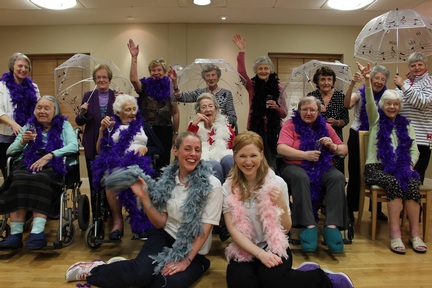 Lucy Brooks, team leader fitness instructor at the home, said: "Looking at the previous year's entries we decided to enter Richmond Letcombe Regis as we felt the Tap Dancing was something different. The Dance class has been running for three years now so it was really nice to showcase the residents' talent.
"The other competitors were fab with some really fun entries. The performance was a joy for the whole village as we performed it at our National Care Home Day Tea Dance. Some of the residents were a little nervous but in true dance style my advice was to smile and no one will look at your feet.
"It's a joy to teach the residents tap dancing. Most of them used to dance when they were children. Coming runner-up is just fabulous."
Resident Veronica Sharley said she is determined to win next year and said: "It was a good time, good fun, good result!"
To view, Richmond Letcombe Regis Care Home's video, go to www.carehome.co.uk/idol/idol.cfm/id/201